I Survived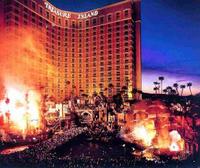 This weekend was my bachelor party in Vegas. In attendance were Ryan and Jay from Duke, PJ from Caltech, and my two brothers. All in all I had a really tremendous time, lots of laughs and way too little sleep but so much fun. We stayed at Treasure Island, which had a nice if very crowded pool, and much better rooms than I had expected. Drinks there at "Mist" on Friday, and dinner at "The Steak House" there on Saturday night which was excellent. My brother in law Gian sent some champagne in his absence, a very nice touch. I played some poker at the Mirage (lost), checked out the Wynn (definitely nice but I didn't think quite as nice as Bellagio, and much less distinctive), and hit my favorite cheap activity in Vegas...

The penny-a-play hundred-hands-at-a-time video poker machines at New York, New York! This is so much more fun than regular video poker. You choose a bet anywhere between a penny and a nickel, and you choose how many hands you want to run, anywhere between 1 and 100. You get your 5 card hand, choose how many to hold, and then the machine will run however many hands you chose, at the bet you picked, and each hand pays out at standard video poker rates. It's just a lot of fun to see so many hands at once, and it's oddly satisfying to see the statistics in action. You get immediate (if statistically insignificant) feedback to questions like "if I have a low pair and a high card, is it better to keep the low pair or the high card?" It is obviously chump change and to me is more like playing a video game than gambling, but I have so much fun with this machine.

A big thank you to all involved in the weekend, and regrets to those unable to attend, you were definitely missed. Jim, sorry for all the 3am phone calls.