Sunday Recap
We went to the LA County Fair. I guess I'd say I was disappointed. It was basically the same as last year (pig races, funnel cake, pool and barbecue displays), only way brighter and hotter (we went in the evening last time), more crowded (we went on a weekday last time), and more expensive (we had a great set of coupons last time). It didn't help that I had a headache for much of the day. It was still fun but I bet I don't go next year. A few notables:
I did finally try the smoked turkey leg you always see at fairs and amusement parks and stuff. It is cool to feel like you are Henry VIII or Hagar the Horrible or something but it wasn't all that tasty.
Check out Coppertone Sport Continuous Spray. Man this sunscreen rules. It applied in about 10 seconds, it was so easy. It dried really fast, so you didn't feel super oily all day. You do feel a little bit sticky but to me it was worth it, I would definitely use this again.
We missed the Bean Spittin' Contest but caught The Stars of the Peking Acrobats. This was well worth the wait - really an amazing show. Even Lauren nearly passing out at the end (it really was hot out!) couldn't take away from the spectacle. The photo is from a medical tradeshow - this sort of display makes me want to buy my own scanning table or whatever the hell that thing is.
Part of me wants to balloon to 500 pounds because it appears that all those people have to do is go to amusement parks and county fairs and get in my way. Seriously it seems like every 5th person is riding a
Rascal
.
I've also started playing X-Men Legends for the GameCube. I picked this up on Saturday for $20. It's fun so far, it's an action RPG in the vein of Diablo or the console iterations of Baldur's Gate. Seems pretty easy so far but I'm having fun with it.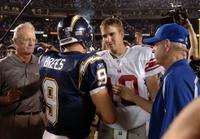 The weekend ended on a bit of a down note with the Giants losing to the Chargers. Hell of a day for Eli and Shockey, too bad the defense forgot to show up.

I started watching E-Ring and need to see the premiere for Curb Your Enthusiasm, so no spoilers please.